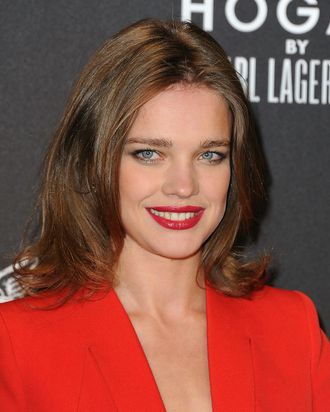 Natalia Vodianova.
Photo: Pascal Le Segretain/2011 Getty Images
It comes as no surprise that Natalia Vodianova did not, in fact, post voyeuristic photographs of herself making out with Bernard Arnault's son in Ibiza to her own Facebook wall. She actually doesn't have a Facebook profile at all, and the photos were taken by a paparazzo who set up a fake account (which, incidentally, has almost 5,000 friends and is still active). British Vogue happened upon the pictures and, not being able to run the photos on their site, reposted them to their own Facebook wall and linked to them in a story. Today, they somewhat half-assedly issued a retraction, which they tacked onto the original piece without taking it down:

VOGUE.COM wishes to retract this story since these images were not on Natalia Vodianova's Facebook page. The Facebook page mentioned below is nothing to do with Natalia Vodianova, nor does she have a Facebook page. Furthermore, the images mentioned were released by a paparazzi photographer and at no point authorised by Natalia Vodianova.

Earlier: Natalia Vodianova Is Reportedly Dating Bernard Arnault's Son
Natalia Retraction [Vogue UK]