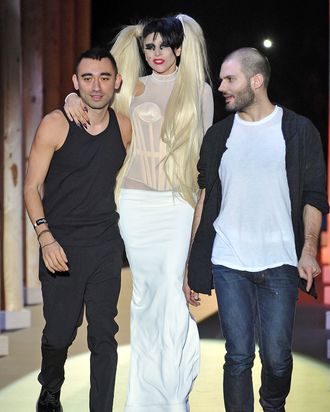 Formichetti and Gaga at the Mugler women's runway show in March.
Photo: Francois Durand/2011 Getty Images
On September 8, the first day of New York Fashion Week, Mugler creative director and stylist to Lady Gaga Nicola Formichetti opens his first pop-up shop in Tribeca. He'll sell everything from his own jewelry line to tee shirts and hoodies to iPad and iPhone cases — all of which he promises will be affordable. You can read a bit about the shop and see the architect's rendering of it in this week's issue of New York. Here's more from our conversation with Formichetti and one of the shop's architects, Mark Foster Gage of Gage/Clemenceau.
So are you two best friends now?
Mark Foster Gage: Yes, best friends.
Nicola Formichetti: I don't know how many proposals Boffo [the nonprofit that organizes the pop-up series] gave me — lots of them, and then it was just like, that was it. I don't think I went through your proposal, I just liked the impact. I couldn't really understand what it was [based on the rendering], and that was kind of it.
MFG: Did you get the best architects in the world in there?
I love how you're really shameless about this, Mark.
NF: Yeah, they were the best for me. I hope people come, do you think people will come?
Of course! You're really worried about that? Like, when you dress Lady Gaga, do you think no one's going to look at her?
NF: Oh my god, I'm gonna call everyone, my friends, and make sure [they come].
Related: T-Shirts Times Infinity