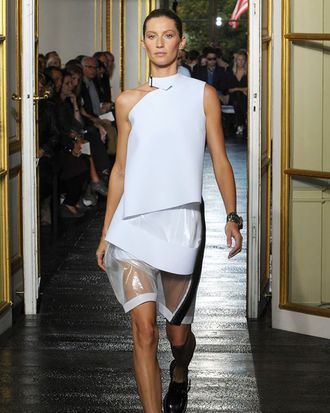 Gisele closing the spring 2011 Balenciaga show.
Photo: Imaxtree
Gisele's been down many runways, appeared in many campaigns, made many millions of dollars. She can afford to be choosy. She can afford to say, "You want me in your runway show, Balenciaga designer Nicolas Ghesquière? My feet better be comfortable." And so Ghesquière tells WWD about the flats in his spring 2011 show:
The idea was to have this crazy casting with Gisele [Bündchen] and Amber Valletta and Carolyn [Murphy], and they said no for high heels. They were not used to walking with heels anymore. Gisele was worried; she would not walk with my heels.

The next season, it was back to the torture chamber.
The Balenciaga Factor [WWD]