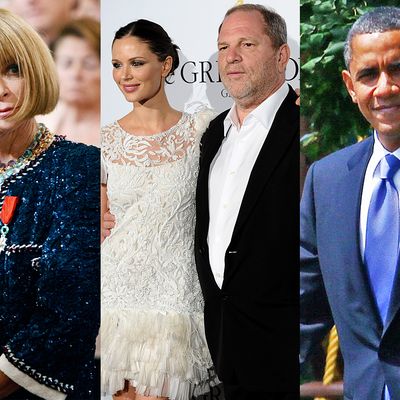 Anna Wintour, Georgina Chapman, Harvey Weinstein, and Barack Obama.
Photo: REMY DE LA MAUVINIERE/AFP/Getty Images, Ian Gavan/Getty Images, Mark Wilson/Getty Images
The presidential motorcade swept through Manhattan last night, halting traffic and shutting down neighborhoods the way a horde of celebrities might — which is what he was headed to mingle with. With no red carpet laid out, Gwyneth Paltrow, Jimmy Fallon, Alicia Keys, Vera Wang, Pharrell Williams, and Aerin Lauder, among other luminaries, shuffled into Harvey Weinstein's West Village basement, for a $35,800-a-head fundraising dinner, co-hosted by Anna Wintour. Last year, Obama went to something similar at Wintour's crib, where extra air conditioners were brought in in his honor. Weinstein, who is married to Marchesa designer Georgina Chapman, was just happy to have anyone over at all.
Weinstein said he had been trying to persuade his wife for three years to have a housewarming party and it had taken president to make it happen.
Fame and Fortune [Time]