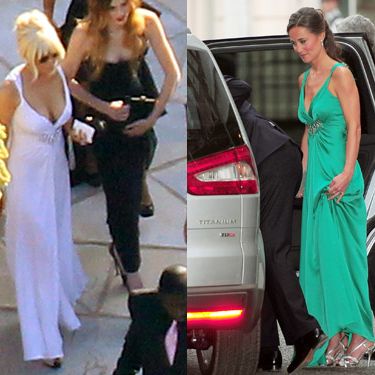 Lindsay Lohan and Pippa Middleton.
Photo: Splash News/???? www.splashnews.com
No blogger is really a blogger until she has undergone the Internet initiation ritual known as SEO training. In SEO (search engine optimization) training, we are taught how to make our articles more Google-able than everyone else's articles and how to get the general Googling public to click here, click here, click here!!! A great way to get a story at the top of a Google search, obviously, is to write about things or people the indiscriminate public is Googling, and to put those things in the headline prominently. And so it is with much joy that today, the first business day after Kim Kardashian's wedding, in an age when the fame of her butt has been surpassed only by Pippa Middleton's, our search-engine-optimized selves can report that Lindsay Lohan, who is still famous enough to end up in Pitbull lyrics, wore Pippa Middleton's green Temperley royal wedding dress to Kim Kardashian's wedding. For those of you clicking in from Google, never to return again unless these three people again find a way to make one headline, we have no more to offer on how GLAM it all was. Like those people read this far, anyway.
Lindsay Lohan wears same dress as Pippa Middleton for 'Hollywood's Royal wedding' [Daily Mail UK]