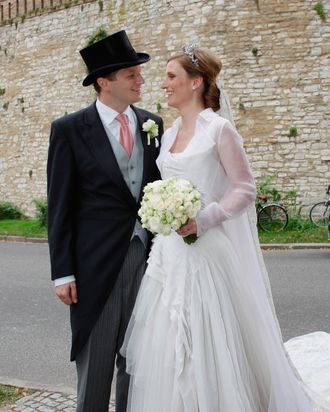 Princess Sophie of Prince Georg of Prussia.
Photo: Andreas Rentz/2011 Getty Images
Princess Sophie of Isenburg, who looks and sounds like Sofia Coppola's tulle-loving, veil-wearing, bridal alter ego, wed Prince Georg Friedrich Ferdinand of Prussia outside of Potsdam, Germany, this weekend. The 35-year-old bride, who works as a consultant in Berlin, wore an elaborate tiered dress with an enormously fluffy long train by German designer Wolfgang Joop. Her diamond tiara is a family heirloom. Not to be too outdone, the groom wore a top hat and tails.
Old-Fashioned, Frilly Dresses Rule at German Royal Wedding [IBT]