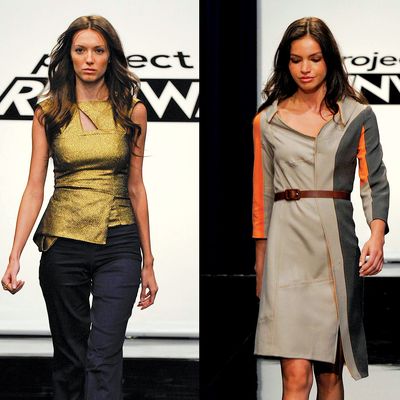 To anyone foolish enough to wonder whether there could be such a thing as too much Nina Garcia on Project Runway, last night's episode proved the perfect riposte. As the focal point of this week's challenge — to design an outfit for her that would transition from a day's work to an evening's party — she proved a model client in both real-life and reality-TV terms.
After giving the designers a pretty exhaustive overview of her aesthetic (good things: tailoring, clean lines, an "edgy" take on classic pieces; bad things: color, pleating, prints, volume and any sense of fun), Nina gamely sat through a round of one-on-one consultations with the designers. Think of a child playing with puppets, jerking them around a little awkwardly just for fun, and that's how most of the discussions played out.
p.s. We may not be able to watch the episode next week because the preview suggests poor Olivier gets hurt. Just kidding, of course we'll be watching. We just hope he's okay!