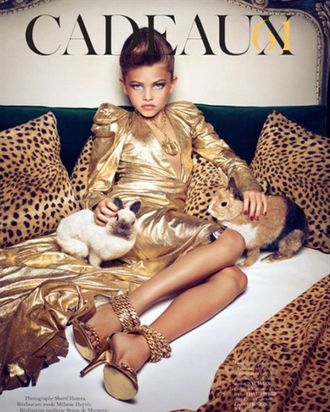 After appearing in a controversial, hyper-sexualized editorial in French Vogue, 10-year-old French model Thylane Blondeau has become a sensation. While some praise her for being beautiful, more are likely disturbed by how, at the age of 10, she's cultivated a sex-pot image minus the rack. A message from someone claiming to be Blondeau's mom turned up on her Facebook page today, explaining it would be shut down to protect the girl:
hey guys im the mum of thylane something going 's wrong at the moment with thylane and bad personn in usa about pictures she make's 8 months ago for vogue ,,thylane doesn't know about the buzz and i want to protect her from the deapest of my heart ,,, she's so young ,, so we are going to close this accompte for a while ,,i know all of you are good person who like her so i send you a big kiss,,thanks

But how much more worrisome is the obsession over Blondeau than models routinely starting their careers at 14?
The 10-Year-Old French Model's Mother Responds To The Controversy Over Her Daughter's Pictures [Jezebel]