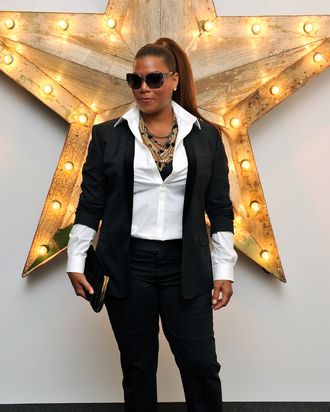 Queen Latifah.
Photo: Gareth Cattermole/2011 Getty Images
"I really have expensive taste, to be honest with you," Queen Latifah confesses. That was "probably the biggest adjustment" she had to make when working on her first clothing collection for HSN. "I've always wanted to do a clothing line," she continues. "I've had a lot of opportunities to do one but I didn't feel like they were the right situations, the right type of equity, the right type of deal. And some of them have been quite lucrative offers — really, really lucrative offers." HSN won't put out a line at Dolce & Gabbana prices — far from those, in fact — but was the only party whose vision aligned with Latifah's, she said. We chatted more with the Queen about the line launching August 27, diversity on the runways, the Middleton sisters, and more.
How would you describe the HSN line?
Every piece is something that I would wear myself or one of my friends would wear. I wanted the materials to be as luxe as they could possibly be, but at a reasonable price point. I'm a Pisces so I like soft materials on the skin. I like things that make women look really sexy but not unclassy-sexy. Edgy as well. You gotta actually get with the bags. I love purses — if there's one thing I will spend money on, I will spend money on a handbag. The handbags are really fly.
The line goes up to a size 24. Would you say there's a lack of options for great clothes in the plus-size market?
There's always been, and there's been a lack of respect for the women who wear that clothing, in my opinion. I just don't think people deal in a certain reality and I'm just not that person, and I don't think high fashion or great fashion should be relegated to just the skinny girls. I think we should all have an opportunity to look good and I just want everyone to feel good.
See pieces from Queen Latifah's first collection in our slideshow.