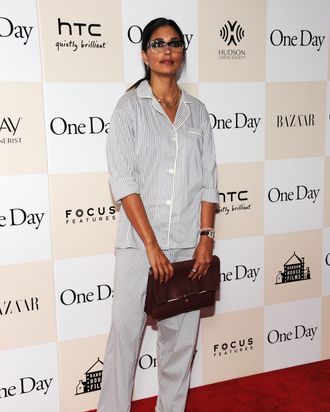 Rachel Roy.
Photo: Larry Busacca/2011 Getty Images
Rachel Roy attended the New York premiere of One Day last night wearing what looks to be pajamas. (Or at least something very similar, in a fashionable way.) She paired the striped and piped ensemble with black heels, a boxy clutch, and a pair of old-lady-librarian-style glasses for a look that reads, "I'm just so busy, I flat out forgot to get dressed." Which, for a fashion designer in the run-up to NYFW, perhaps isn't entirely implausible.
Aside from all the obvious questions this look raises, does this mean we can at least wear sleepwear to the office, if not to big events?