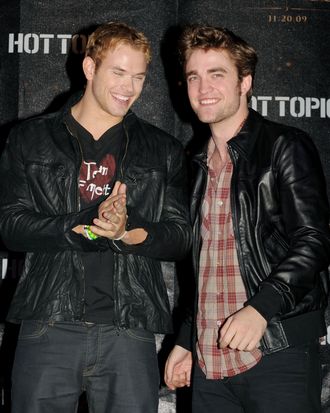 Kellan Lutz and Robert Pattinson.
Photo: Kevin Winter/2009 Getty Images
One time, perhaps while Kellan Lutz was trying on samples of his new clothing line in his trailer between Twilight takes, Robert Pattinson wandered in and they started chatting about outfits. "Rob and I were talking about doing clothing lines, and he found out I was doing one and was like 'I should do one,'" Lutz told Us Weekly.

Lutz added that he and Pattinson conceptually called the line 'Rags by Rob,' which is fitting since Pattinson's own style could be described more or less as disheveled, with monotone V-neck T-shirts, worn-in jeans, and flannel button-down shirts being his wardrobe staples, plus unwashed hair to boot.

This is probably a great idea, since the only thing that either of these dudes have to do to shill their stuff is take pictures of themselves wearing it (or not wearing it), and then tween girls will make their boyfriends buy it while they're hanging out at the mall. In related news, Lutz's line, Abbot + Main, is introducing girls' clothes next spring.
Related: Kellan Lutz Wants to Be 'More Than Just the Face' of His Clothing Line
Kellan Lutz: Robert Pattinson Wants His Own Clothing Line! [Us]