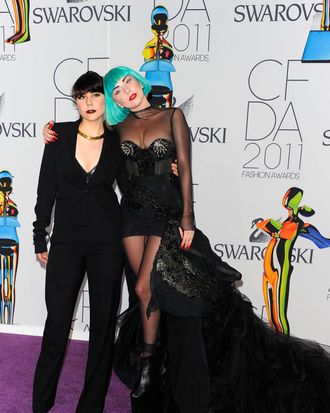 Natali and Gaga.
Photo: Andrew H. Walker/2011 Getty Images
As soon as Lady Gaga's little sister and new Parsons student Natali Germanotta got her name in the fashion news for maybe being the costume designer for the Off Broadway show Simon Says opening this fall, it was inevitable that someone would find a way to print the BETTER story about her designing a clothing line with Big Gaga, even if it might not be true. So in their new issue, maybe because it would be boring to say "Wee Gaga might be designing for an off-Broadway show," Grazia got exclusive sources to say that the sisters are working on a clothing line. It really is better, see:
it'll be 'relatively normal and wearable' The theme that Gaga has in mind is 'to remodel the styles of classic icons from the past, for example, Marilyn Monroe, Grace Kelly, and Katherine Hepburn' BUT the glamorous styles will each come with a twist — like the white Marylin dress made up in kinky rubber.

A kinky twist? Sort of like last week's Gaga's little sister story versus this one.
Lady Gaga to create a fashion line with her sister 'Baby Gaga'! [Grazia]