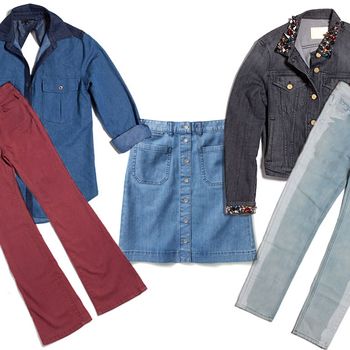 Clockwise from left: Moody Blue Shirt by Lakdah, Mini Studs Jacket by ACNE, Rock & Roll Paint Splattered Jeans by JNBY, Halli Denim Skirt by Club Monaco, and High-Rise Flared Jeans by Silence & Noise.
Now that it's halfway through August, there's an onslaught of new fall merchandise hitting the shelves. Unfortunately, it's still too warm out for heavy wool sweaters and leather jackets, no matter how alluring the store windows might look. To quell that shopping itch, denim makes for a great transitional piece. Our latest Shop-a-Matic features all things denim, from colored skinnies to of-the-moment seventies-inspired high-waisted flares. Browse for new basics, as well as quirky updates that will carry you through late summer and well into fall.

High-Rise Flared Jeans by Silence & Noise
Price: $58
Why We Like It: Brightly colored skinny jeans were big for summer and the trend continues for fall in seasonally appropriate hues like mustard, forest green, and rust. This muted red pair has a seventies vibe, with its high waist and flared legs, but looks refreshingly modern and relaxed after seasons of tight jeans.