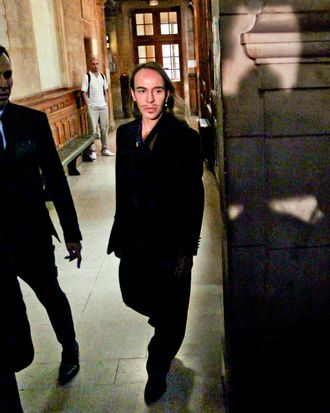 Galliano at his trial in June.
Photo: JACQUES DEMARTHON/2011 AFP
In 2007, Steven Robinson, a close friend and colleague of John Galliano's at Christian Dior, was found dead in his Paris apartment. At the time of his death, the cause was stated to be a heart attack. Owing to strict privacy laws in France, the actual circumstances surrounding his death have been concealed — until now. Robinson actually died because of a drug overdose — not a heart attack — and was found with seven grams of cocaine in his system, which he bought from celebrity drug dealer Alassane Seck for around $740. Seck was later convicted of Robinson's manslaughter, the trial for which included evidence from Galliano and many details about celebrity drug use.
In his public slander trial this year for making anti-Semitic comments to a couple in a Paris café that lead to his firing from Dior, Galliano blamed Robinson's death for the depression that drove him to abuse drugs and alcohol, which in turn fueled his outbursts.
John Galliano friend killed by massive cocaine overdose [Telegraph UK]