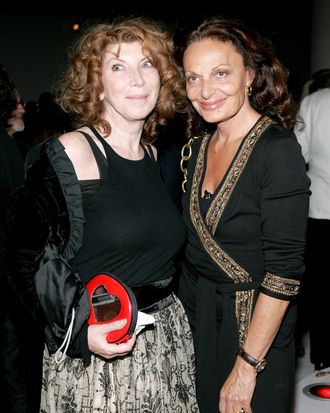 Nona Summers with Diane Von Furstenberg in 2005.
Photo: Paul Hawthorne/2005 Getty Images
The hurricane turned tropical storm in New York this weekend wasn't as bad as it was in the Bahamas. But what was probably the worst part of it for many New Yorkers — staving off boredom — was also acutely felt by British Vogue editor Nona Summers, who endured Irene at Diane Von Furstenberg's house on Harbour Island. Times were tough for the editor, who did everything she could to distract herself from the pounding noise and utter lack of sunshine. Just after the eye of the storm passes:



We are being hammered. This time Irene means business. I can't take the gloom any more I've opened the dark curtains. Irene is lashing out, punishing anyone that stands in her way.

It must be time for light relief — I give myself a deluxe facial in the brightest room, my bathroom. I'm so engrossed in the arduous process of exfoliating I barely notice the storm has stepped up a notch.
Hurricane Irene [Vogue UK]