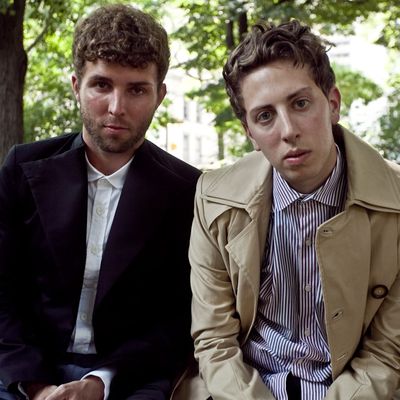 Timo Weiland and Alan Eckstein.
Photo: Henry Hargreaves
Timo Weiland and Alan Eckstein, the duo behind the label Timo Weiland, met three years ago when they each abandoned their jobs to pursue design (they had previously been in the finance and music industries, respectively). Earlier this month, they were selected for the CFDA's second-ever Fashion Incubator Program. They're currently preparing for their first runway show after five seasons of showing presentations at New York Fashion Week. We chatted with the designers about the trends they're into, celebrities with great style, and their love of chambray.
How would you describe your design aesthetic?
TW: There's an adventure element, lots of outdoor. It's not necessarily like hiking gear. For example, this season, we really looked to classic surf-trip attire. If you're a New York artist in the 1960s and you're going on a surf trip, how would you have dressed?
AE: I think we're quirky. We used to say we're a return to the art of dressing. And I thought that was a little cheesy for a second, but I think it's really true. We really, really care about the way people dress themselves. And we have this return to this layering, this fun. I think our girl and guy are cool, but also they don't take it too seriously.

What's one item every man and every woman should have in her closet?
AE: Chelsea boots. I think Chelsea boots are so great on guys and I think they're so cute on girls.
TW: I love a girl or a guy in a chambray shirt.