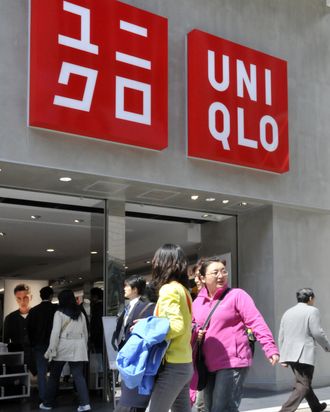 Uniqlo.
Photo: YOSHIKAZU TSUNO/2010 AFP
To get New Yorkers pumped up about a giant new Uniqlo flagship opening on Fifth Avenue this fall, the retailer is sprinkling a bunch of curious-sounding pop-up shops around the city. Reports WWD:

Uniqlo is planting "cubes" that glow from within at strategic locations around Manhattan. Four cubes, which open like vaults, were plunked down at the High Line roller skating rink at the end of July. The cubes contain dressing rooms and sell a variety of merchandise.
These cubes won't be confined to touristy areas, either; a source explains that Uniqlo's objective is "to get into the neighborhoods and shopping areas that aren't SoHo." The real question, though, is will these pop-up things stock Jil Sander's last +J collection? If so, they're definitely worth stalking, which you can do on Uniqlo's website.