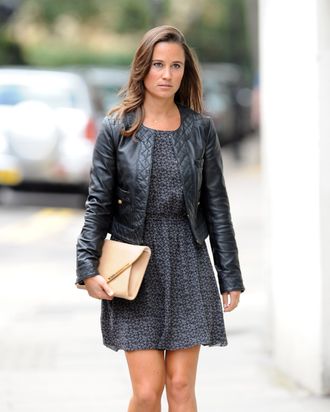 Photo: Gotcha Images / Splash News/???? www.splashnews.com
Pippa Middleton was spotted out and about in London yesterday wearing a cropped black leather jacket over a black dress in a safety-pin print. She accessorized with gold earrings, a beige clutch, and wedge heels that look very similar to her sister Kate's oft-worn pair of L. K. Bennetts.
Would this outfit benefit from a bit of color somewhere in the mix?
In This Issue: Pippa's Bottom, and What It Means For Retail.
Related: Let's Not Forget About Pippa Middleton!