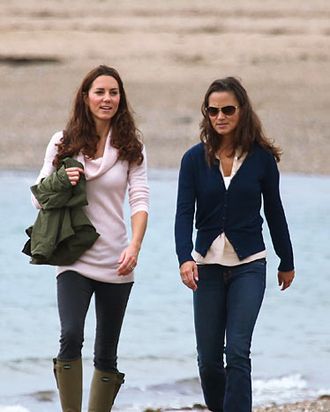 Kate Middleton being normal with her sister Pippa.
Photo: GERALLT/Bauer-Griffin LLC
Time to reprint the front page of this morning's paper because something more amazing than ever has happened: Apparently Kate Middleton went to Topshop this week to buy a blue boucle jacket with black velvet trim, a black-and-green polka-dot skirt, and some cheap earrings. Ah!!! Apparently while she was there, she also stood in line to try everything on in the changing room, and, when she was at the cashier, paid with a silver visa, used a Topshop rewards card, and decided at the last minute not to buy a pair of $13 earrings. Ashlin, the person who witnessed this — and was basically close enough to see what Kate's PIN number is, but was too starstruck to be able to report it now (because that would be a great way to get on the duchess's good side) — is a blogger who writes GetWhatKateWore.com, a thorough K-Mid fashion fan site.
She describes the whole encounter in tremendous detail, explaining that at first she didn't think the duchess was just standing right in front of her, but then she noticed that her hair, boots, and jacket looked awfully like the great Kate. Within twenty seconds, she realized she was arm's length away from bona fide royalty, spilled her change all over the floor, and did what any of us would do in such a circumstance — went into convulsions.
I was so starstruck that I was shaking and I had to ask myself "am I alive?". As soon as I saw her face … I felt like I was in a dream. You know when you think something which you know could never possibly be true … but then it is true…and you are like so shocked that you don't feel alive?
I SAW KATE MIDDLETON IN TOPSHOP!!!!!! [Get What Kate Wore]