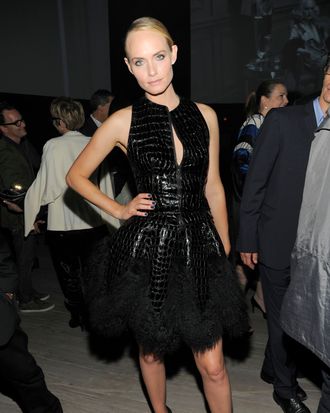 Amber Valletta.
Photo: Patrick McMullan
Amber Valletta looked her age at the Tory Burch flagship launch on Tuesday, unlike in the W magazine September spread, in which she ages to 110. "It was hours of makeup, but we had a professional prosthetic makeup artist and a fashion makeup artist," Valletta said of the shoot. "They did a full face cast, they did ears, they did hands; they did everything," she added, including contact lenses and body prosthetics up to the neck. "It was pretty incredible." The shoot lasted for two days — "two, very, very, very long days," the model said. "I was so excited to be there and into the project that the hours sitting, doing it, seemed not really important."
Valletta, who is 37, told The Cut she feels like she got a sneak peek at how she'll look when she's old. "And I feel okay about it," she laughed.