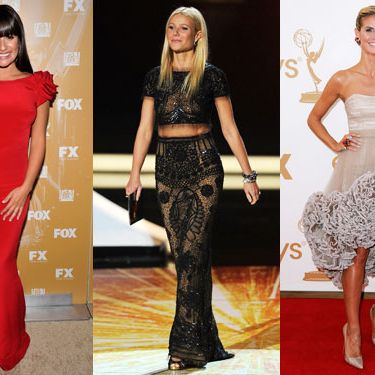 Lea, Gwyneth, and Heidi.
Photo: Toby Canham/2011 Getty Images
You'd be hard pressed to argue that Sofia Vergara didn't look hot in her one-shoulder Vera Wang gown with those saucer-sized sapphires hanging from her ears at the Emmys last night. Or conversely, that Juliana Margulies nailed it in her white Armani Privé column gown, which sadly turned her figure into a Pez dispenser. But there were many more debatable looks, which some of us will adore just as they are ingrained in the memories of others as did they lose their contact lenses before they got dressed? The clothes-wearing ladies shaping up to be the most controversial are:
1. Lea Michele — The Today show's commentators were just gushing over her red Marchesa gown, its strong shoulders culminating in a deep cowl-back. It managed to be interesting enough to convince you it wasn't boring, which smacks of the usual problem with red-carpet gowns: Starlets are afraid to wear interesting clothes because that might alienate the vast majority of people in this country, who don't care much about fashion.
Related: Fug Girls: Red Carpet Hits and Misses at the 2011 Emmys
See All the Red Carpet Looks at the 2011 Emmy Awards