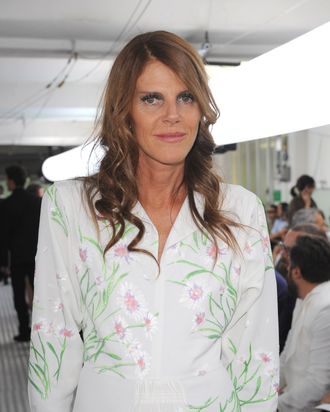 Photo: Tullio M. Puglia/2011 Getty Images
Anna Dello Russo made her debut in American mass retail as a "guest editor at large" for Macy's INC line, editing and styling the forthcoming fall and winter collections and spearheading the creative campaign. Macy's is the first mass retailer to have approached her for a collaboration, she told us at the Mondrian Soho this morning, where she wore INC and chatted with us about shopping at Macy's, her teenage fans, and of course, Kate Middleton.
Had you shopped much at Macy's before you started working for them?
Yeah, I used to go into Macy's when I was a teenager because when I used to come to New York we always were attracted to the bigger department stores. In Europe, you don't have the same way to see many clothes. But I didn't shop so much in department stores because I come from Italy, you know, where you have the best little shops. I like little shops when you have to buy. I like intimate shops.
Do you get recognized often in Macy's stores when you go now?
I will tell you tomorrow night because we will be there for Fashion's Night Out. Generally I have been approached by the new generation. I have many fans who are little teenagers. The teenagers come to me because they see my blog, which is more for young people. They say, "Hi, I like you."
And do you think she made nude panty hose cool?
She's quite old fashioned, but modern in countenance, and when she was wearing fleshy nude stockings, that's kind of old fashioned, but on her, with a yellow dress, it was looking so avant garde. She rocked it. I think she has the kind of personality to make them modern. I like it.