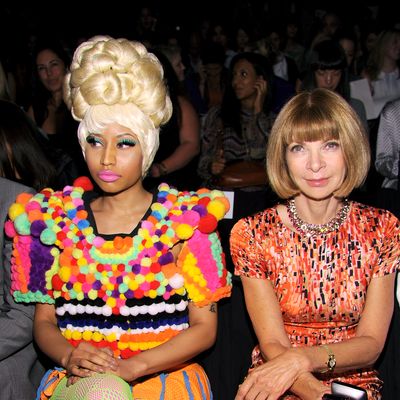 Nicki and Anna.
Photo: Dimitrios Kambouris/2011 WireImage
Remember how weird it was when Nicki Minaj sat next to Anna Wintour at the Carolina Herrera show during New York Fashion Week? Mostly because Nicki looked like a sheep made of sprinkles and Anna looked as Anna always does? And because Nicki wrote that lyric that goes, "Hey, yo, Anna, hey yo Anna Wintour, I'ma need that cover baby girl"? Apparently the seating arrangement was all Anna's idea, the Daily News reports. Anna seems to have been just as amused by the resulting photos as the rest of us:
[Minaj] explained that Wintour personally invited her to the Herrera show and later sent Minaj an inscribed photo of the two watching the fashion promenade. "We match!" wrote Wintour.

Yeah, right — we wish they matched.
Anna Wintour invited Nicki Minaj to Carolina Herera, Oscar de la Renta fashion shows this season [NYDN]