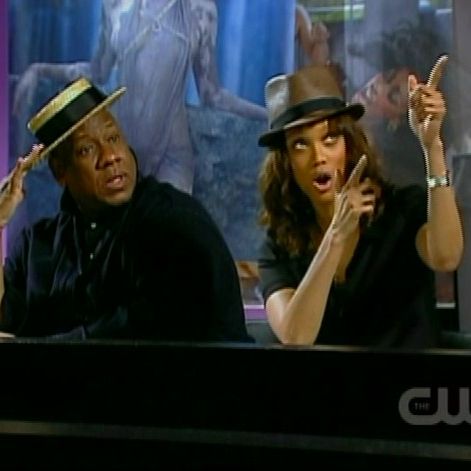 Well, isn't it fitting that this DREAM of a Top Model season opens with just that? Dreams, Tyra's dreams that is — or maybe nightmares. Clad in girly yellow pjs and a matching eye mask, Tyra tosses and turns, haunted by ANTM alumnae who are begging for another shot at the title. (Of course, in these little pop-up dreamscape vignettes, it's Tyra dressed up as the ghosts of cycles past.) Then, without the cold sweat, poor Tyra wakes up all aflutter … and ACTUAL PAST CONTESTANTS ARE IN BED WITH HER, writhing and pleading to come back on the show. Mind you, we haven't even gotten to the Girls Gone Wild reference in this recap's title yet. But, gosh, the show sure means business.
Serious business, indeed. In the frantic monologue that follows, Tyra explains that this cycle is not just about finding a model — it's also about finding a "star" with the "power" to build her own "brand." That's why some of the returning contestants are over 30 and, to be blunt, not even remotely viable models in the first place. (Surely, the joke's on the fashion industry, at least to some extent, because the winner will get a spread in Vogue Italia.) To prove their skills in the self-branding arena, the would-be All Stars will have to rap, design their own fragrance, and audition for a cameo on CSI, among other ludicrous challenges. They might also have to booty dance with YouTube star Keenan Cahill, but that could just be Tyra having fun on her own dime.

And, because too much is never enough, see more ALT in the video below!