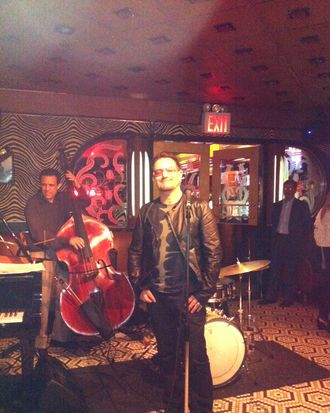 Bono at the Lenox Lounge.
Edun's party at the Red Rooster wrapped up last night around 11 p.m., but Ali Hewson, the conscientious fashion label's founder — and Bono's wife — wasn't ready to go home yet. Instead, she led the dwindling crowd, including Bono, Tom Freston, Julie Gilhart, Loomstate co-founder Scott Hahn, Grizzly Bear's Chris Taylor, and U2 stylist Sharon Blankson a block away to the classic jazz club Lenox Lounge, where they filled two booths and a small portion of the bar, much to the surprise of patrons.
They got another surprise when Bono sang an impromptu ballad with pianist Lafayette Harris and his jazz trio: Cole Porter's "Night and Day," with an improvised last verse to include a reference to Lenox Avenue, and one of those Bono-fied "heee-eeees" at the end of the "day-eeeee."
It was a good end to ours.