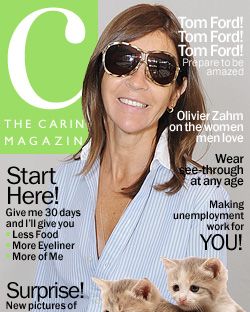 Carine Roitfeld has confirmed she will start her own magazine, which will be published on paper, probably four times a year. "Initially, I wanted it on the Internet, but it's a lot of investment, a lot of time, I do not know if it suits me," she told French newspaper L'Express. "I know that now you have to work with the Internet, and the photos are of very good quality on the iPad, but things quickly go out of style on the Internet. We'll start with print. A September issue next Fall, in English." Ooh, we Americans with no knowledge of or just plain terrible French can all read the words now! Which is what everyone loves to do with fashion magazines! But not everything has been decided on for this new venture.
"I could call it Carine Roitfeld in the manner of Oprah Winfrey, and put myself on the cover every month like she does, but I'm not sure if this is what people want."

The fake version we made of that concept ought to prove to everyone — and Carine — that this IS what people want.
Carine Roitfeld Plans to Launch a Magazine Next September [Fashionologie]