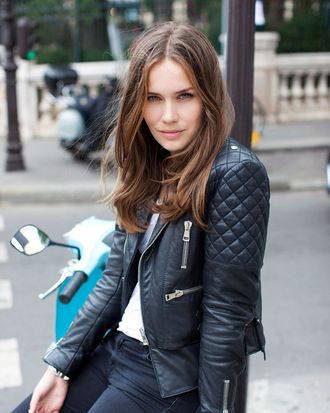 Stockholm Street Style co-founder Caroline Blomst started her career on the other side of the lens, modeling as a teenager in Sweden. But when she and boyfriend Daniel Troyse first decided to launch a blog six years ago, she was on summer break in the middle of studying for a master's degree in sociology at Lund University. "We both had a real interest in photography and fashion, and we love sitting in a city and watching people pass by," she says. "We started doing just that, with a camera." The pair created Stockholm Street Style in 2005, trolling their small city for fashionable stand-outs.
They earned a small but devout following, and in 2007, Swedish media group Bonnier approached them about starting a fashion site. Carolines Mode, which originally launched as part of men's-focused gadget site Feber, became its own blog as it gained popularity. Now the pair spends five months of the year traveling to Paris, Milan, and London, interspersing street style shots with Blomst's shopping and accessories picks. In particular, early fans of the site clamored for more of Caroline's own looks, and in 2007 she started posting images of her outfits on the blog, deftly mixing designer labels with Zara and H&M. ("We don't have a lot of brands in Stockholm," she explains. "We don't have Prada, we don't have Chanel.")
Earlier this fall, she launched C Mode, an iPad-based magazine that compiles weekly highlights from the blog, and designed a pair of shoes for footwear company Six London (see a sneak peek here; they'll be available online in November). We caught up with the fashion-savvy blogger to discuss the rigors of the job, her favorite people to photograph, and her fall shopping list.
Street style photography has exploded since you first started blogging. Is it competitive?
Of course it's competitive, but competition feeds off of demand. If there was no competition, I probably couldn't do this full-time. That said, it's never fun to have the same shot as someone else.
After shooting other people all day, do you enjoy showing off your own outfits on the blog?
I modeled when I was younger, so I know how to stand in front of a camera. My readers really love seeing my outfits, and it's fun to show them what I'm wearing. But I'm still more comfortable behind the camera.