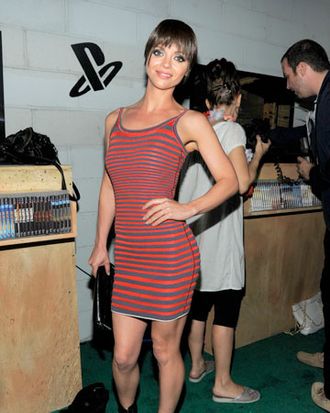 Christina Ricci, in hi-def shape.
"I've always wanted to have a frat party," Alexander Wang told us last night at his Animal House–worthy rager at Pier 40. Guests were greeted with glow sticks, jello shots, and fridges packed with 40's of Bud. In the back, people played beer pong, ate burgers and hot dogs, and did keg stands. The walls were plastered with vintage Playboy centerfolds and TVs were set up to play sponsor Sony PlayStation's new game Everybody Dance. Wang challenged actress Christina Ricci to a game. His song choice? Rihanna's "Rude Boy." (Ricci won.) "I always play [the game] with friends and I let them choose the songs because I'm way too embarrassed to be like,' I want to dance to the New Kids,'" Ricci said, while perched on a shabby sofa. "I've never been to a frat party. This is my frat party."
See pictures of Christina Ricci, Jared Leto, Penn Badgely and more at the Alexander Wang party.