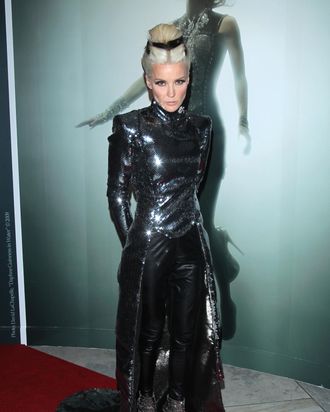 Daphne Guinness in her Hogan McLaughlin gown.
At last night's exhibition of Daphne Guinness's clothing and films at FIT, the subject herself was breathless in a crushing crowd on the museum's lower level. "It's really surreal," she said. "It's such a lot of collaborations that I've been doing. And to see them all in one room is kind of mind-blowing. Normally you should be dead if you have a retrospective. I've been very, very nervous."
Surrounded by mannequins with black-streaked platinum hair exactly like her own, Guinness looked dazzling in chrome-colored sequins that flowed in a train behind her. (Valentino Garavani accidentally stood on it, but just for a second.) The dress was from Hogan McLaughlin, a 22-year-old former dancer, who just released his first collection of eight pieces earlier this week.
Earlier Slideshow: Preview FIT's Daphne Guinness Exhibit
Imagining Daphne: New York's 2010 Profile of Guinness [NYM]