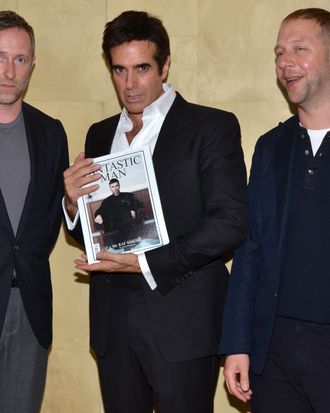 David Copperfield.
Photo: Andrew Toth/? Patrick McMullan
To enter David Copperfield's lair is to have a Willy Wonka experience, The Cut learned at last night's party celebrating the magician's September Fantastic Man spread, his 55th birthday, and his new "King of Magic" title, bestowed by the Society of American Magicians.* Only instead of a world of candy, it's one of antique fortune-telling machines and other fascinating turn-of-the-century gadgets and relics.
The night started ordinarily enough, relatively speaking — guests devouring small bites from Nobu on the second level of Copperfield's East 57th Street triplex penthouse — until Copperfield issued The Cut an invitation: "Walk with me." Suited in Tom Ford, he glided down a winding white stone staircase to his first-floor museum, a collection of dozens and dozens of antique games and machines, which several partygoers were already exploring. Copperfield surveyed it all, took a deep breath, and watched intently.
*This post has been updated to show that the party was also celebrating Copperfield's birthday and "King of Magic" title.