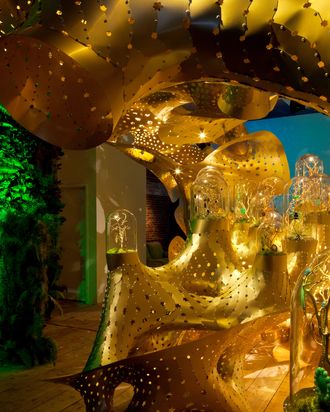 Photo: Evan Joseph Uhlfelder/? 2011 Evan Joseph Images ALL RIGHTS RESERVED
After housing crystal-studded panda rings and dildo heels at Nicola Formichetti's Fashion Week pop-up, BOFFO's 57 Walker Street storefront has been turned over to a new architect and designer pairing, Marc Fornes of THEVERYMANY and Los Angeles jewelry designer Irene Neuwirth. The new space is low-lit and gallerylike, the antithesis of its frenetic, disco-mirrored predecessor. The centerpiece is Fornes's curvy, three-dimensional sculpture resembling gleaming coral, built from 80 sheets of gold-infused aluminum and pieced together by hand. The opposite wall is covered in live foliage, giving the space a moody, underwater effect.
Neuwirth's earrings, necklaces, and bracelets dangle from branches within moss-lined glass domes throughout the sculpture. Though the ocean-inspired pieces are pretty, you're more likely to ogle here than to shop: The collection ranges from $1,500 to $150,000. The 18-karat yellow- and rose-gold jewelry is studded with chunky stones in beachy hues, including pink opal, mint green and turquoise cabochons, onyx, chrysoprase, and lapis. Click ahead for a look inside.
Irene Neuwirth, 57 Walker St., nr. Broadway; Sept. 29-Oct 12.