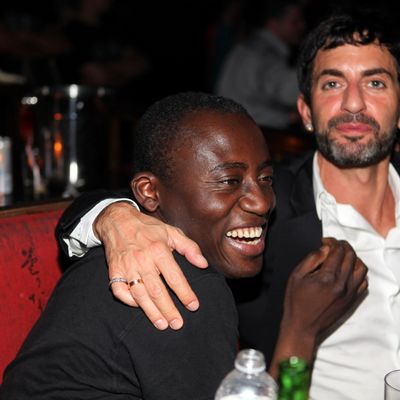 Edward Enninful gets some love from Marc Jacobs.
Soft-spoken and understated, W fashion director Edward Enninful has long been a quiet but powerful force in the fashion industry. Born in Ghana and raised in London, he started his modeling career at 16 when he was spotted on a train by stylist Simon Foxton. He quickly started picking up styling jobs at i-D magazine, where he was named fashion director at the tender age of 18. Later, he became a contributing editor at both the Italian and American editions of Vogue, where he freelanced for the past decade (you might also recognize him as the Jamba Juice-sipping character from The September Issue). In April, Enninful replaced Alex White as W's style director, and his official debut issue was well-received when it hit newsstands in September. We spoke with the editor just before fashion week about his personal style (black pants, white shirt, every day), his favorite shopping partners (Kate and Naomi, of course), and how he keeps his cool in an industry governed by extremes.
Do you find that you dress differently now that you're living in New York full-time?
I always dress the same. I've dressed the same since I was seventeen. It's black pants, white shirt, suit jacket. My style has always remained consistent.
What made you choose that uniform?
I'm not really defined by how I dress. I think my job is to project a vision onto a person. I don't need to be dressed to the hilt to do that. It's more important for me to project onto another person than to project onto myself. The way I dress sort of keeps me out of the way, and frees up my mind to focus other people.
Who's your fashion icon?
David Bowie! I just love what he represented, and his whole way of dressing. He wasn't scared to experiment. He wore everything from white suits to sailor pants to crisp suits. He really inspired by notion of fashion from a young age. I got to work with him a couple of years ago and, when we first met, he said, 'I was looking through your book, and there were all these pictures in it that I thought were me.' And I was so flattered!