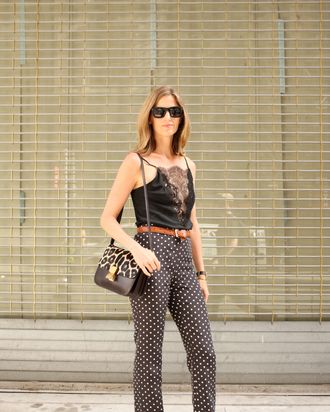 Barneys fashion director Amanda Brooks loves Céline, and Céline loves her back. Today she debuts her most beloved splurge of the season: the label's leopard pony classic box bag (and even compares it to a timeless Kelly from Hermès). While yesterday's outfit was minimal, uptown chic, Brooks opts for a more casual approach on this second day of Fashion Week, wearing fitted silk trousers topped off with flats.
On Amanda: Céline sunglasses, Maje by Vanessa Traina camisole, a mystery belt, Giulietta pants, Azzedine Alaïa shoes, Céline bag, Hermès watch, and Cartier bracelet.
About the look: "I always say I never wear the same outfit twice, but this one is an exception. These Giulietta pants are cut so perfectly, it's hard to take them off. And I wish I'd bought multiples of this Maje by Vanessa Traina camisole. The Céline leopard pony classic box was my big splurge for the season, but it's so worth it. It's like the new Kelly bag in that I know I'll wear it forever and then give it to my daughter one day."
See more: Outfit from day one.