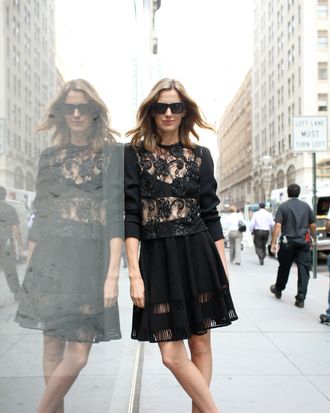 Today sees Barneys New York's fashion director Amanda Brooks solving a classic fashion dilemma: how to put together an outfit that's both day- and evening-appropriate. To wit, she simply mixed one of her mother's vintage lace blouses with her newly purchased Alaïa skirt for a look that's elegant, yet slightly playful. Brooks polished everything off with a pair of black pumps and her favorite pair of sunglasses.
On Amanda: Céline sunglasses, vintage Sonia Rykiel blouse, Azzedine Alaïa skirt, and Azzedine Alaïa shoes.
About the look: "Today I'm more dressy than usual because Barneys is hosting an event tonight, and I wont have time to go home and change. My outfit started with this Alaïa skirt that I just bought — its wool but I couldn't wait to wear it. Naturally, it looks great with my favorite Alaïa heels. And then to add something different, I dug out this eighties Sonia Rykiel lace blouse that was once my mother's. I have vivid memories of her wearing it, so its fun to channel that look and time."
See more: Outfits from days one, two, three, four, five, and six.