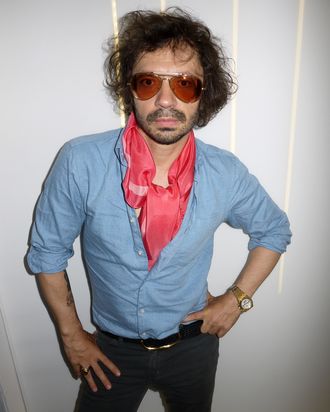 Olivier Zahm et pink scarf.
What better way to spice up a muggy Tuesday at Fashion Week than with a nice watermelon-colored scarf? Purple magazine's Olivier Zahm tied his in a loose knot and tucked it into his half-unbuttoned Steven Alan shirt (which, he notes, is from this season), achieving a nice European cowboy look. Of course, he kept his trademarks: aviators, a thick belt, and a gold watch.
On Olivier: House of Waris silk scarf (from spring/summer 2012), Steven Alan shirt (from this season), Audemars Piguet Royal Oak watch, YSL belt, American Apparel almost black jeans, and Rayban aviators.
About the look: "I like to add a feminine touch to my daily look. Here, I picked up a bright pink silk scarf from my friend Waris Ahluwalia's new collection."
See More: Outfits from Day One, Day Two, Day Three, Day Four, and Day Five.