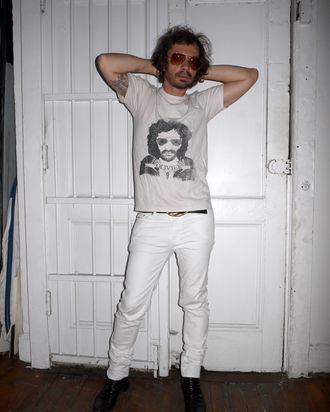 We got the chance to catch up with Purple Magazine's Olivier Zahm in person yesterday, when he stopped by the House of Waris spring 2012 fine jewelry and scarf presentation in the atrium at Lincoln Center. After waxing poetic about scarves ("They're a good accessory to look stylish in a second — a little touch that gives an amount of color") and why French women love them so much ("They are fucking obsessed with Hermès"), our talk eventually turned to how challenging it's been to do this Style Diary. "I have to wear a new outfit every day, and I wear the same thing. That's a little [bit] of a problem," he admitted. While yesterday's solution was one of the aforementioned neckpieces ("The scarf makes the difference, right?"), today he went with an all-white ensemble. Plus, the man wore a T-shirt with his own face on it — how many people can pull that out of their closets?
On Olivier: Deer Dana "Olivier" T-shirt, BLK DNM white jeans, Ray-Ban aviators, YSL shoes and belt, and Audemars Piguet Royal Oak watch.
About the look: "The stylist Dana Veraldi gave me this T-shirt once during a shoot, which I keep at the office and sometimes wear when I want attention."
See More: Outfits from days one, two, three, four, five, and six.