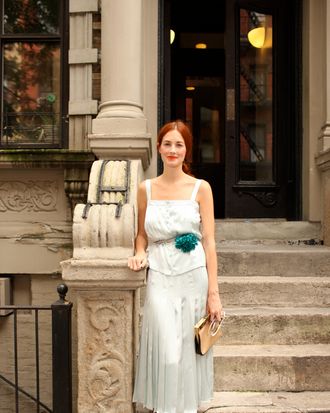 Marie Claire's Taylor Tomasi-Hill kept her look simple today. The editor went with a vintage Escada suit she purchased while vacationing in Aspen, alongside some standout accessories, per usual. And that flower belt? Tomasi-Hill made it herself.
On Taylor:
Vintage Escada two-piece suit, D.I.Y. flower belt, Chloé bag, Proenza Schouler shoes, and Rodarte for Opening Ceremony sunglasses.
About the look: "My outfit today was based off a mad rush to get dressed when my dry cleaning was not ready. So I went to my vintage suit that's always been a go-to in my closet; it's comfortable and easy for the weekend."
See more: Outfit from day one.