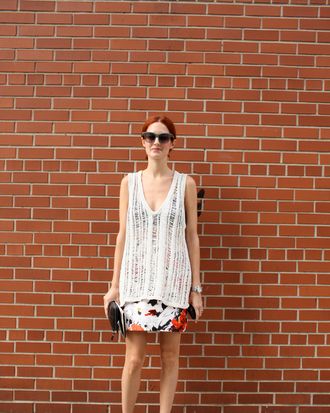 For her final style diary, Marie Claire's Taylor Tomasi-Hill outfitted herself in a shredded tank and floral neoprene skirt, which suits this afternoon's muggy weather quite well. Tomasi-Hill finished the ensemble with a pair of strappy heels and a black, leather oversize wallet. And that's a wrap for the editor, who's soon jetting off to the European shows. See all of her looks from the week below.
On Taylor: Alexander Wang tank top, Balenciaga skirt, Pierre Hardy shoes, Comme des Garçons wallet, and mystery sunglasses.
About the look: "Today I rolled out of bed and threw on one of my go-to outfits for the office. We are shooting like mad this week, so there hasn't been much extra styling time. It's always nice to pull out an oldie but goodie. New York Fashion week is coming to an end, so it's time to pack up and head to Europe."
See more: Outfits from days one, two, three, four, five, and six.