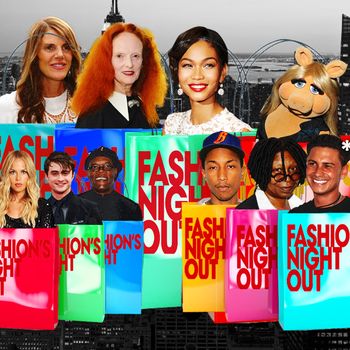 Some very flashy goody bags.
Photo: Hasselblad H3D
What New York lacks in Mardi Gras it makes up for in Fashion's Night Out. Tomorrow, for the third year in a row, the night meant to fight the recession by getting people out of their apartments and into stores will turn this city's retail landscape into a celebrity-and-booze-saturated amusement park for adults, where you might not get beads for boobs, but you're likely to get champagne and mini-burgers just for showing up somewhere. Since so much stuff is going on — involving so many celebrities, so many free drinks, and so much free food — you'll want a plan before you head into the madness, which is why we spent days going through every FNO event and putting together a guide to help you reach your personal FNO goals, whether you want to get drunk, get fed, or get photos with celebs for your Facebook page.


For example, if you like a little healthy competition: Tavi Gevinson is judging a forties-themed costume contest at Miu Miu and Barbie organized a scavenger hunt. If you're more into shameless celeb-spotting, the rumor is that Pauly D has left the Jersey Shore for a night to make an appearance at DASH.


If, however, sweat pants and takeout sound more appealing than tomorrow night's forecast of rain, traffic jams, and drunken throngs, you can find photos and musings from the night as they happen on The Cut's twitter feed. For those of you venturing out into the elements, you should check the Fashion's Night Out site for specific times or call stores ahead to make sure they're not experiencing rain delays, because the only thing worse than meeting Anna Dello Russo with sopping wet hair is missing out on seeing Anna Dello Russo with sopping wet hair.


Related: The Complete Spring 2012 Fashion Week Calendar

35 Things to Buy on Fashion's Night Out