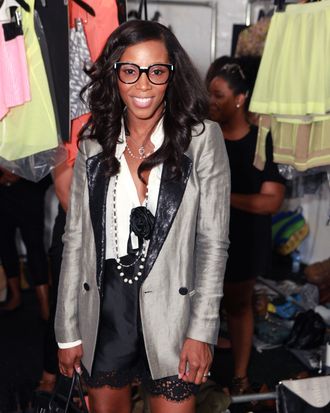 June Ambrose.
Photo: SHAUN MADER/? Patrick McMullan
Now in its fourth season, The Rachel Zoe Project has proved that reality shows really can immensely expand the scope of a stylist's career. Since starting the show, Zoe has gone on to become a pretty famous celebrity in her own right with a very successful clothing line hanging in department stores like Saks, and on the same floor as lines like Diane Von Furstenberg. So, why aren't more stylists on television? Perhaps because they don't have the name recognition she had when getting her Bravo show. Zoe was a recognizable enough name to many semi-regular Us Weekly readers to make them want to tune into her show, the third season finale of which 1.1 million people watched.
Finally, another similar stylist reality show is in the works. This one will air on VH1 early next year and follow June Ambrose, whose clients have included the Dave Matthews Band, Sean Combs, Alicia Keys, Kelly Ripa, Kim Cattrall, Jay-Z and Mary J. Blige.
VH1 Greenlights Reality Series Starring Celebrity Stylist June Ambrose [THR]