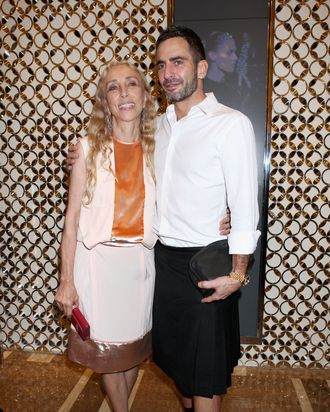 Franca Sozzani and Marc Jacobs.
Photo: Vincenzo Lombardo/2011 Vincenzo Lombardo
The Times' Eric Wilson describes what sounds like a highly awkward dinner to celebrate the new Louis Vuitton exhibit at the Triennale Design Museum in Milan, where attendees danced nervously around the subject of Marc Jacobs's rumored move to Dior.

Also present in the room, metaphorically speaking, was a very large elephant, with a trunk larger than any ever produced by the luggage artisans of Louis Vuitton. That would be the talks between Mr. Jacobs and LVMH about his potential move to fill the glaring vacancy left by John Galliano at Dior, though raising the subject among Vuitton executives led to grimaces or coy replies.
At a Vuitton Celebration, Concerns About an Era's End [On the Runway/NYT]