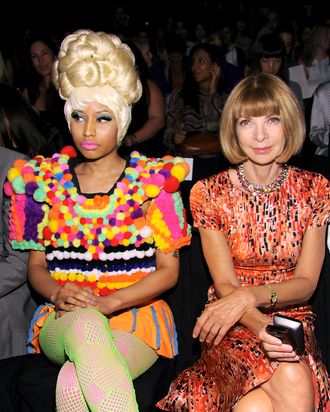 Photo: Dimitrios Kambouris/2011 WireImage
Fashion Week never fails to surprise us. There's always a point — around Monday, usually — where you begin to despair of seeing anything or anyone new, but then the next thing you know, it all kicks into high gear and you've got Thomas Jane skulking down runway, and Nicki Minaj buddying up with Anna Wintour, and Mischa Barton shows up with a stylist … and then it's all over, and it's time to figure out a way to sum it up. So here are some of our superlatives, bits and pieces we never got a chance to tell you, and let's face it, probably a picture of Minaj. But she wore underwear. With La Wintour. Isn't that worth revisiting?