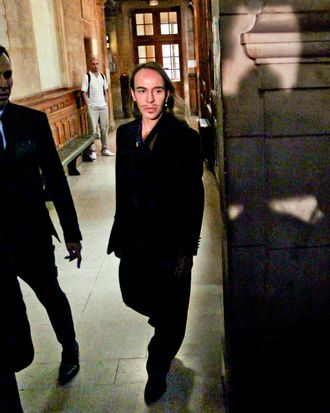 Photo: JACQUES DEMARTHON/2011 AFP
People at Fashion Week were certainly thinking about yesterday's verdict in John Galliano's trial for defamation — which included no jail time and a suspended €6,000 fine — even if they weren't talking openly about it. Cathy Horyn wrote for the Times:
If I hadn't asked several people for a reaction to the conviction of John Galliano on anti-Semitism charges in Paris, I doubt I would have heard a peep all day. Generally, these people thought the ruling was correct, and that Mr. Galliano could repair his career. "I will bet that he will make a comeback," Howard Socol, the former Barneys chief and now a consultant, said before the Richard Chai show. "This happens in sports and politics all the time."

The industry's persistent adoration of the designer before the verdict would have suggested as much, anyway. But we talked to models, actors, and designers at Fashion's Night Out last night to see how closely they'd been following the story and what they thought of the verdict. Their reactions follow.

Rose McGowan, actress.
What did you think when you heard about the Galliano sentencing today?
It's just horrible what he said, but it's also so bizarre, because we're in America, where we have freedom of speech. Now, if you said anything like that, it would kill your career, and it's reprehensible, but it's still bizarre that you could do time. It's shocking on many levels. Well, you have to fight for the right to say reprehensible things, because it's a domino effect. You take away one right, and well … It's all about protecting your rights. It's very strange.