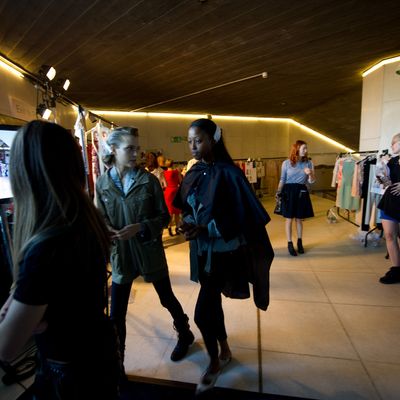 Models backstage at Antonio Berardi.
Photo: Ian Gavan/2011 Getty Images
For years, London and Milan Fashion Week have been complaining that they don't have enough time during fashion month to have all their shows. New York tries to organize its schedule around Labor Day, and Paris being Paris gets to do whatever it wants, which leaves the middle two Fashion Weeks — London and Milan — squeezed. This season things have been particularly traumatic because Marc Jacobs moved his show to the very last time slot of New York Fashion Week — Thursday night, to make up for time lost during the hurricane — keeping models and editors from getting to London on time. Models who were optioned for the show stuck around in the event that they got cast, keeping lots of them from the first day of London Fashion Week.
London Fashion Week crisis after Gucci summon models to Milan [Telegraph UK]