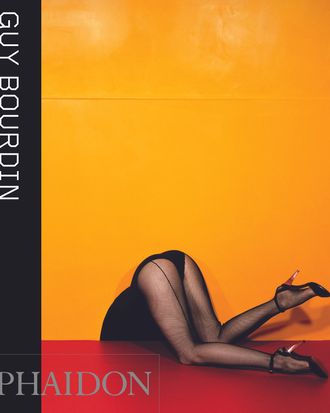 Despite his career as a fashion photographer spanning over 30 years, Guy Bourdin famously never consented to the re-publication of his images outside of their original in-magazine context. (He never granted interviews either, or allowed his photo on a contributors' page.) However, in the years since his death in the early nineties, photo books and retrospectives of his often controversial work have popped up (he had a taste for the sensual and provocative, often cropping models to appear in suggestive poses). The latest offering comes courtesy of publisher Phaidon and curator Alison M. Gingeras, and it includes previously unpublished images, early work, as well as a selection of his best-known editorial shoots for Vogue Paris and advertorial campaigns for high-end shoe label Charles Jourdan. Click through our slideshow here to see some of Bourdin's photography from the book.
There will be a launch party for the book and exhibit of Bourdin's work tomorrow, September 8, during Fashion's Night Out at the Phaidon Store (83 Wooster Street, nr. Spring St.). Street-style photographer Garance Doré will also be on hand from 7–9 p.m., to discuss a site-specific installation of her own work, which she's curated to complement Bourdin's imagery.
Guy Bourdin by Alison Gingeras, Phaidon 2011; available via phaidon.com.