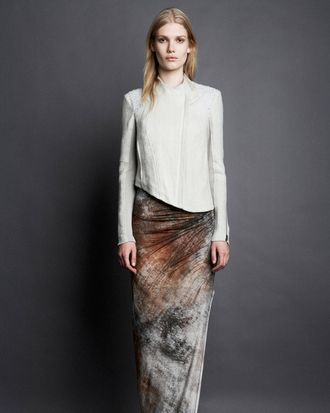 Nicole and Michael Colovos started as creative directors of Helmut Lang in 2006 after Theory bought the label from Prada, but they never put on a fashion show. This spring they'll do their first one for the label at New York Fashion Week. You can watch the show live, Saturday, September 10 at helmutlang.com, which is where you'll also find the brand's new e-commerce store this month. If you can't afford to do more than lust after Helmut pieces and are the kind of person who loves photo booths (which would be all of us, let's be honest), the label will be streaming photos from the booth they're setting up in the Soho store at 93 Mercer on Fashion's Night Out, which you can download for your own personal Facebook page or Tumblr or any of the many other ways you whore yourself out on the Internet (which we all do, let's be honest).
Helmut Lang [Official Site]
This post has been updated to with the store's correct address at 93 Mercer, not the Meatpacking District as previously stated.