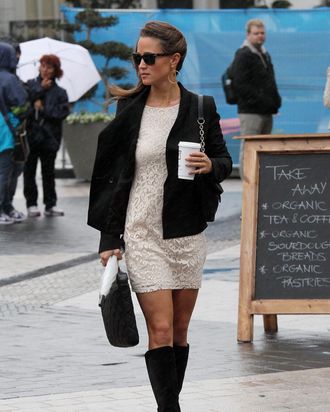 Pippa Middleton.
Photo: Gotcha Images / Splash News/???? www.splashnews.com
Amid her various 28th birthday activities today, Pippa Middleton was out running errands and sipping coffee in West London. She wore a tailored black jacket over a cream lace dress and accessorized with black knee-high boots, hoop earrings, a black handbag, and quilted leather briefcase. Being that it's England, she also carried an umbrella.
If you were buying Pippa a birthday gift, would it be something to liven up this outfit? And if so, just what? Or is this look successful as is?