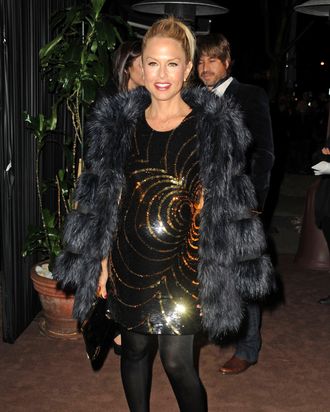 Rachel Zoe.
Photo: Frazer Harrison/2011 Getty Images
In a dressing room at the Saks Club on the third floor of the Fifth Avenue flagship, Rachel Zoe is advising a petite, strawberry-blonde 17-year-old shopping with her mother on how to wear a white sequin blazer. "I like to wear it a little bigger, so you can wear a zero or a two or a four," she tells her. "If this part is too low," she says, explaining the seam should not hit below the shoulder for the coolest slouchy effect, "you can't cheat it." As a stylist, movie stars pay Zoe a rumored $10,000 a day for such dressing advice, but today, she's not just styling, she's also up-selling her brand-new clothing line, Rachel Zoe Collection, which hit more than 100 retail sales floors in the U.S. and Canada four weeks ago.
The seventies- and boho-inspired wares, which include suiting, long dresses, blouses, sequin minidresses, and faux-fur vests, look exactly like something Zoe would wear. "It's insta-chic," she tells her next client, a 30-ish hedge fund manager, helping her into a camel cape. "I don't mean to sound like a walking advertisement, but it is." That $695 wool cape has already sold out at Nordstrom, which will reorder it before the weather actually feels like fall, at which time they'll probably sell out of it again.

This post has been updated to reflect Li & Fung's global sales volume for 2010.