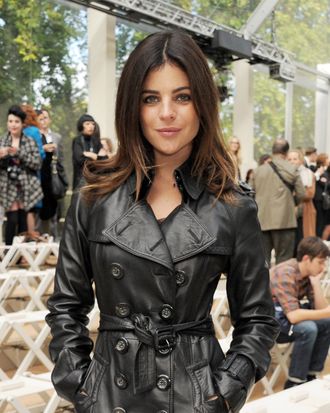 Julia Restoin-Roitfeld, presumably wearing some great underwear.
Photo: Dave M. Benett/2011 Getty Images
At Monday's Burberry show, Julia Restoin-Roitfeld mentioned offhandedly to a reporter, "I'm mostly excited about the lingerie collection I'm working on." Since an announcement about her designing her own line would probably come via a splashy feature story or, at the very least, a self-important press release, it's unclear whether she's talking about creating her own lingerie or just buying lots of it. Her additional comments didn't offer much clarification. "I have a really great lingerie collection," she continued, "but it's not for my boyfriend — he doesn't care — it's for myself. Next to shoes, it's my favorite luxury." Now that we're thinking about it, she's got good taste in shoes, too. Well, one can always hope.