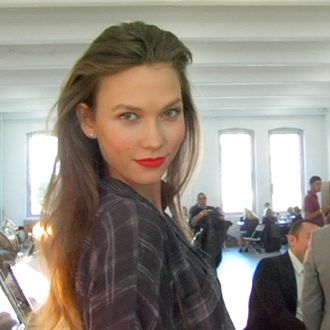 The catwalk at today's Jason Wu show was made of white, shiny, treacherous-looking shingles, but Karlie Kloss braved it like the pro that she is after nine runway seasons. Although she started modeling at age 15, she fully supports the CFDA's push to use models who are 16 and over. "I wish I'd have been a little more mature, a little older," she said of her career's beginnings. Now that she's one of "the older girls," she says she makes sure to take first-timers under her wing. Hear her thoughts on underage modeling, her first-season memories, and more in our video.
Related: Diane Von Furstenberg Encourages Designers to Card Models at Their Shows
See the complete Jason Wu spring 2012 collection.